BISS NZ CH. Weisup On Fire At Silvastorm
"Fame"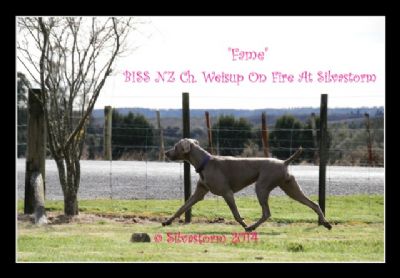 Fame wins BEST IN SHOW at the Weimaraner Club Inc Championship Show 2013 (43 entries) under Breed Specialist - Mr Simon Mills of Clayco Weimaraners, Canberra, Australia.
Fame's Critique:
"What a super bitch this girl is had the WOW!! Factor. Up standing bitch of excellent breed type with strong breed characteristics. She displayed the following

• Correct body proportions with correct balance
• Correct length of neck flowing into well laid shoulders
• Correct length of ear with correct set and fold
• Correct length foreface with over strong head shape with pleasing expression
• Straight front with correct feet
• Correct front and rear angulation
• Level top line and correct tail set
• Moved out soundly with reach and drive covering ground
• Correct coat with correct colour

She looked in the peak of fitness and coat condition was exceptional, a real experience to judge her. Her outline was elegant but with substance and strength required of the breed. A near faultless display on the day and the handler although nervous got the most out of her. A pleasure to award her the bitch CC and BEST IN SHOW. One of the ones I will remember for quite a while, I wish her every success for the future."


***Fame wins BEST JUNIOR IN SHOW & Res Best of Breed (24 breed entries) to her sire at the Continental Gundog Championship Show under Breed Specialist - Mrs Liz Harding of Silvahunter Weimaraners, Victoria Australia

From limited showing to date, Fame is a Multi BOB & Age in Group winner. This young girl has a very bright future in front of her.


Breed Specific Tests & Health Clearances:
HYPM: N/N DM:N/N LHC:Negative DNA Profiled & Stored (All tests performed in US Labs)

Huge thanks to Debbie Meyrick for entrusting me with this stunning girl!

Thank you to "A Dozen Dogs" for her Best In Show photo.

Pedigree

| | |
| --- | --- |
| Breed : Weimaraner | Bred by : D Meyrick & R Larkin |
| Sex : Bitch | Owned by : Andrea McInroe |
| Date of Birth : 10-Sep-12 | Handled by : Andrea McInroe |
| Call Name : Fame | Available for stud : N/A |

Sire : NZ CH One In A Million Imperium Star (Imp Poland)
S: AM.CH.Colsidex The Farm Top of The Mark BROM
S: AM.Ch.Bremar Maker's Mark
D: AM.CH.Sagenhaft Colsidex Whizz Kid
D: POL.CH.Isabelle Adjani Imperium Star
S: Multi Int/Aust CH.Ashlaren Caprioska
D: Soul Coast Toby's Special Surprise
Dam : NZ CH Weatherrun N Weisup Fyrdwnunder (Imp Canada)
S: AM.CH.Graytsky's Southern Fire
S: AM.CH Colsidex Nani Reprint BROM
D: AM.CH.Graytsky's Stellaluna BROM
D: CAN.CH.WeatherRun's Shadowrama FDJ
S: CAN.CH.WeatherRun Kelco Cutothchase CD
D: CAN.CH.WeatherRun Classicalljaz Kelco
Results
15-Nov-14

New Zealand Bred in Show


The Weimaraner Club (Champ Show)

3-Aug-14

New Zealand Bred of Breed


Upper Hutt Kennel Association (Show 1) (Champ Show)

2-Aug-14

R/Up Best of Breed, Bitch CC, New Zealand Bred of Breed


Pencarrow Kennel Association (Show 2) (Champ Show)

26-Jan-14

Best of Breed, Bitch CC, Junior of Breed


Tasman Districts Gundog Society (Champ Show)

26-Jan-14

R/Up Best of Breed, Bitch CC, Junior of Breed


Nelson District Kennel Association (Champ Show)

25-Jan-14

R/Up Best of Breed, Bitch CC, Junior of Breed


Tasman Districts Gundog Society (Champ Show)

25-Jan-14

R/Up Best of Breed, Bitch CC, Junior of Breed


Nelson District Kennel Association (Show 1) (Champ Show)

25-Jan-14

Bitch CC, Junior of Breed


Nelson District Kennel Association (Show 2) (Champ Show)